"Hell on Wheels is an epic doc. It's fast, fun, and inspiring."
- Chris Gore (founder, Film Threat Magazine)
"…the kind of twists, drama, cat fights and compound fractures that only happen in real life. …the story is extremel y compelling, sometimes laugh-out-loud outrageous and above all inspiring."
- Ain't It Cool News
"Hell on Wheels is full of adrenaline-fueled highs, heartbreaking lows, and lots of chicks in short skirts kicking the shit out of each other."
- The Onion A.V. Club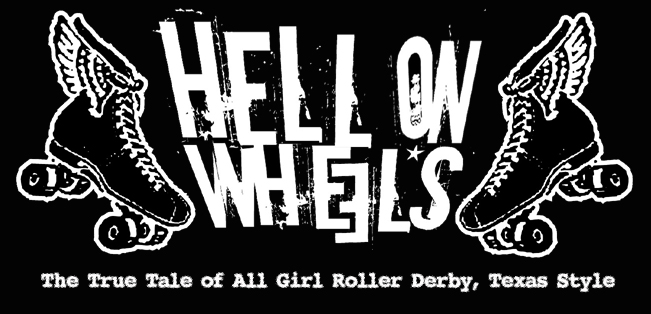 directed by Bob Ray produced by Werner Campbell
featuring Lonestar Rollergirls and Texas Rollergirls
original music by ...And You Will Know Us By the Trail of Dead
with the music of: Explosions in the Sky, Mogwai, Grupo Fantasma,
RPG, Nashville Pussy, Alice Donut, The Crack Pipes,
Suplecs, Amplified Heat, Hobble, USS Friendship and more
Hell on Wheels takes a from-the-trenches look at the dizzying clash of athleticism, exhibitionism, egos, politics and business that is modern-era roller derby. A group of hard-hitting Texas women overcome myriad obstacles in resurrecting and revamping the sport, only to find internal strife ripping the fledgling organization apart. Two leagues emerge from the clash, and what follows ignites an international roller derby revival. Shot over a five-year period by Bob Ray (Rock Opera) and Werner Campbell, Hell on Wheels was edited by award winning editor Conor O'Neill (Murderball, Word Wars, Capitalism: A Love Story) and features original music by …And You Will Know Us by the Trail of Dead.
run time: 90 min
"Hell on Wheels is a killer documentary about the Austin all-women's roller-derby leagues that inadvertently launched a nationwide (and now worldwide) revival of the sport."
- Salt Lake City Weekly
"Hell on Wheels is a fascinating story and a fun movie."
- Cinematical
"Part rock 'em, sock 'em sports doc (cue Trail of Dead) and part behind-the-scenes exposé, the film is blessedly free of A&E-style jiggle and melodramatic pandering, and it makes clear the value of Derby for misfit girls who like to clothesline people. Best of all is the film's coda, which tracks the subsequent formation of Roller Derby leagues across the U.S. and the globe."
- The Austin Chronicle
"A thrill-ride of a documentary …not just wildly entertaining, but downright impressive. Highly recommended."
- digitallyOBSESSED
"Bone-crunching collisions, behind-the-scenes drama and roller skates are all part of the outrageous documentary… a smashingly entertaining feature!"
-- Pittsburgh Tribune-Review
"…the drama fans see during bouts pales to the drama that roller derby has gone through off the track. [Hell on Wheels is] a kind of tattooed, tough-girl "Dynasty." The film is as much about dreams, ego, power and simple human nature as it is about roller derby. …one hell of a story."
- 77 Square
"Hell on Wheels is entertaining, educational and frustratingly brilliant."
- In Utah This Week
4 ½ STARS
"...a story of triumph over adversity and seemingly insurmountable odds. It's one of those documentaries that doesn't really feel like its imposing an agend or actively spewing various facts at you, but simply telling you a true-life story in an organic fashion… a good story well told.."
- Real Movie News
"A wholly engaging documentary."
- Campus Circle
"Compelling storytelling… It's fascinating to watch."
- DVD Talk
"A must-see film!"
- The Stamford Times
www.HellOnWheelsTheMovie.com
www.facebook.com/HellOnWheelsTheMovie

an insanely funny and wickedly debaucherous new documentary about crime, sex, art, drugs, music and life in the Austin underground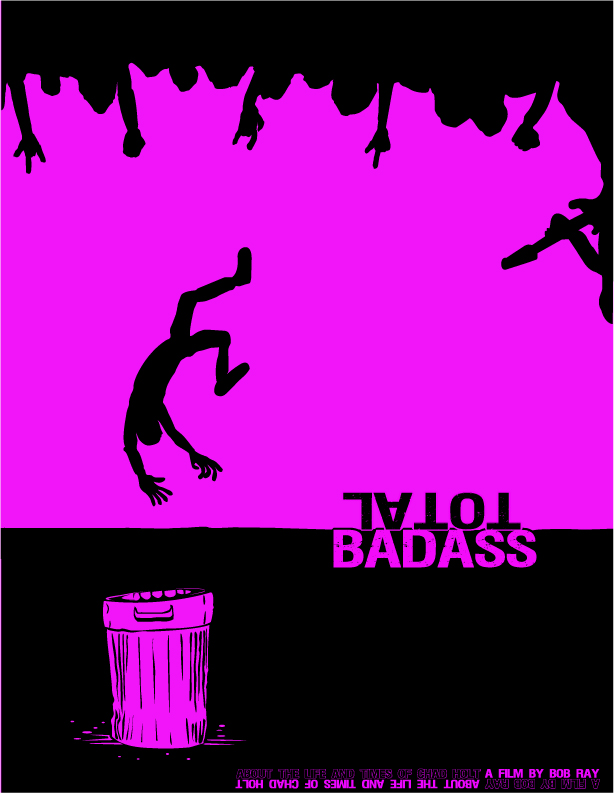 "a ballsy feature-length documentary...
a totally unapologetic profile of the ubiquitous [Austin] hero."
-Vice Magazine

"a psychological treat"
-Phoenix New Times

"an outrageous and hilariously seedy journey into the Austin underground... [Total Badass] bravely goes where no documentary film has gone before."
-Flavorpill
the first of three trailers:


"genuinely funny and touching"
-Monday Magazine

"[Total Badass] is a rough film, and that's a good thing: Holt comes across like a lost John Waters' collaborator, or like a real-life version of Nicolas Cage in Bad Lieutenant: Port of Call New Orleans."
-Austin Chronicle
Here's the "test scene" we shot before embarking on the feature shoot: TOTAL BADASS "Test Scene"


"Holt is a modern day Texas punk rock version of a Kerouac character; speeding through life on whatever fuels him in a non-stop flurry of writing, drug dealing, singing, stage diving, love making, and guinea pig raising."
-Austin Daze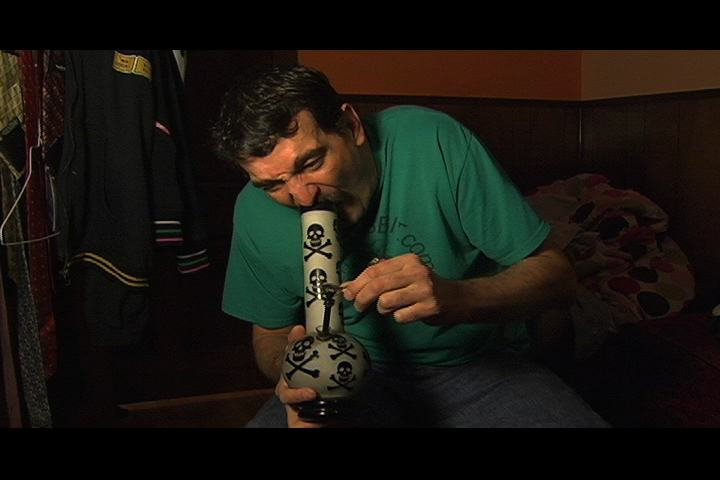 Austin's Indie Guru delivers a doc about drugs, sex and Chad Holt: Drugs, Sex and the Austin Underground
The ultimate slacker filmmaker just might be Austin's Bob Ray, responsible for the indie productions "Hell on Wheels," about women's roller derby, and "Rock Opera," a weed-infused little goodie about the Austin rocker scene. He's also been at the helm of numerous animations and good-time music videos, such as "Platypus Rex's Clone Whores" and "Night of the Kung Fu Zombie Bastards from Hell!" Anyone with a High Times magazine nomination for Best Stoner Film is alright by us.
Ray and his CrashCam Films are always a highlight at the prestigious SXSW festival, and his latest cinematic adventure to screen at the fest is "Total Badass: A Film by Bob Ray about the Life and Times of Chad Holt." We quote from the film's web page: "an insanely funny and wickedly debaucherous new documentary about crime, sex, drugs, music and life in the Austin underground." (They had us at "insanely.")
-D.L. Groover, Houston Press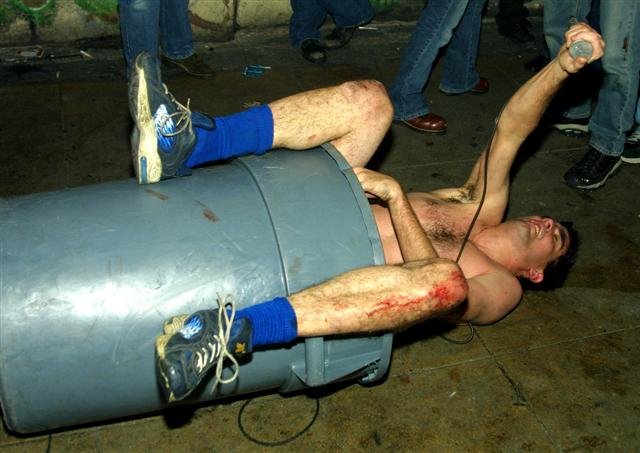 www.TotalBadassTheMovie.com
www.facebook.com/TotalBadassTheMovie
Texas filmmaker Bob Ray catapults the Austin subculture onto the big screen, reveling in its inspiring, unique and deliriously offbeat glory. With his latest documentary, "Total Badass," Bob Ray takes you on an outrageous and hilariously seedy adventure into the Austin underground music and arts scene via wild man-about-town, social deviant, musical/stunt performer, notorious sex fiend, Guinea pig enthusiast, writer-publisher, father, weed dealing felon, hip-hop impresario, trashcan jumper and local maniac Chad Holt. Exploiting life as his unwitting canvas, Chad's take-no-prisoners artistry assaults funny bones, political correctness and common decency as he strives to leave a creative scar on the planet. Strap in for the riotous ride and follow this icon of the Austin counterculture as he blazes through his final year of felony probation, living his own brand of civil disobedience while manning the helm of a life-altering family crisis and going out smokin!
directed by Bob Ray
produced by Kera Dacy, Bob Ray, Mia Cevallos
edited by Bob Ray and Andrew Segovia
featuring Chad Holt
with the music of: The Crack Pipes, Fruntbutt, BFE,
Migas, Wine and Revolution and more
release date: 2010
run time: 87 min
MORE CLIPS HERE: http://www.crashcamfilms.com/totalbadass/peek.htm

written and directed by Bob Ray
featuring Jerry Clark, Chad Holt, Ted Jarrell
original music by 16 Deluxe with the music of:
Butthole Surfers, Nashville Pussy, Fuckemos, The Crack Pipes,
Honky, Pocket FishRmen, Phantom Creeps, Titz, Voltage,
Cherubs, Antebellum, Squat Thrust, El Flaco, PigPoke,
Ed Hall, Witchbanger, El Insecto and more

From Austin, "The Live Music Capital of the World" Texas comes the award winning and critically acclaimed stoner-caper-comedy Rock Opera, a hilariously raucous and seedy tale of drug fueled rock and roll debauchery. Rock Opera sets a fictional tale of double crossing drug deals in Austin's real life underground music and drug scene.
run time: 89 min
Rock Opera was nominated for a High Times Magazine Stony Film Award!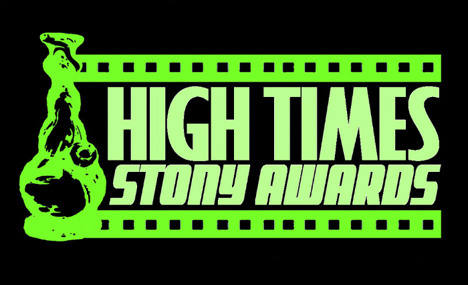 "Hilarious!"
--Toronto Eye
"A hysterically funny slacker caper movie."
–Jerry Renshaw, The Austin Chronicle
"Rock Opera delivers the goods."
--Willamette Weekly
"RockOpera is damn funny."
--The Seattle Stranger
"If every pot user goes to see Rock Opera,
I think you'll have a hit on your hands."
--Richard Linklater
"Tense, violent and funny,
Rock Opera is solid midnight movie fare."
--Variety
"The funniest celebration of unrepentant drug ingestion since Cheech & Chong's Up In Smoke... One of the year's great finds."
-- San Francisco Independent Film Festival
"Genuinely warped...scathingly hilarious...a spot-on quasi-parody of the day-to-day existence of struggling Austin musicians and their wayward ways."
-- Marc Savlov, The Austin Chronicle
"I love Rock Opera!"
--Steve Bloom, High Times Magazine
"Hilariously seedy."
--Throttlebox.com
"Bloody funny... If you're not easily offended, this should definitely be near the top of your to-view list."
--Grant Tait, Austin 360
"Hilarious and groovy…
Rock Opera is rockin'."
--FileThirteen.com
"Rock Opera possesses that delicious sense of the absurd for which so many indie films strive for but very few achieve. Never before has the underground Austin music scene been brought onscreen to such glorious, pot-reeking life. Rock Opera could very well be the next Austin film to inherit the low-budget crown previously worn by Slacker and El Mariachi."
--SXSW
"A great film, including really fucking hilarious performances, especially the uberstoner Toe, played by the seeming unstoppable Jerry Don Clark.
It's great fun."
--Terminal City Weekly
"Bob Ray is a director who rocks."
--IFC RANT

"A good old fashioned
ass kicking spectacle."
--Film Threat
"Rife with rocking energy...
a hell of a time."
--New Times L.A.
"Truly suspenseful... terribly funny...
Rock Opera puts Fear and Loathing in Las Vegas to shame."
--San Francisco Weekly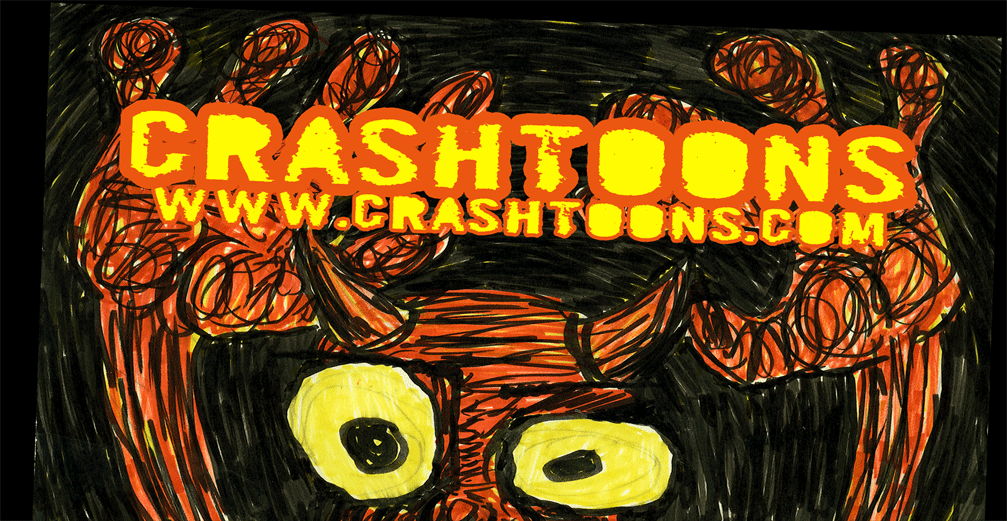 Watch "Platypus Rex in: Hymenoplasty" at: www.CrashToons.com

Watch "Platypus Rex in: Clone Whores " at: www.CrashToons.com

Watch "Spanish Lessons with Chupacabra Volume 7: Conversational Spanish" at: www.CrashToons.com

www.CrashToons.com
see cool 'toons like: APESH!T, Platypus Rex, and other crazy crap with some dragons, unicorns, Chupacabras, sex, guns, and good times!
"Inventive and flat-out funny,
but definitely not for the squeamish!"
-- Palm Springs International Festival of Short Films

APESH!T "Road Trip" is a two-parter.
Part 1 is "Butter Face" and Part 2 is "Pecker-pine."
Dig the both of them:
That's just a sampling of the 'toonage! Swing by and check out the full load of cartoons at
www.CrashToons.com
www.facebook.com/CrashToons